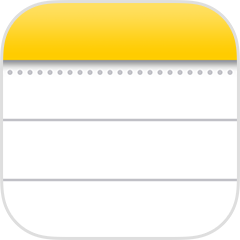 With Notes, you can turn a list into an interactive checklist with a single tap. Or easily add a photo, map, or URL to a note. You can even draw a sketch with your finger on your iPhone, iPad, and iPod touch. And thanks to iCloud, everything in your Notes are kept up to date across all your devices. So you can create a note on your Mac and use it on your iPhone when you're on the go.
Get started
To use the latest Notes features, all you have to do is upgrade.
When you update your device to iOS 9 and later or OS X El Capitan and later, and open Notes for the first time, you see the option to upgrade. Choose Upgrade Now, then both your notes on your device and your notes on iCloud.com upgrade. And if you sign in to iCloud with the same Apple ID on your other devices with the latest version of iOS and macOS, any changes you make to a note on one device instantly appear on all your other devices.
Make sure that your notes finish upgrading before you leave the Notes app.

Enjoy the latest Notes features
The notes you created before your upgrade might look different. But you can immediately start using all of the new app features to customize and enhance them. You can even use the upgraded features in the notes that you share with someone else. Just make sure that they upgrade their Notes app too.
If you upgrade later, your notes stay the same, and you can upgrade to the new features at any time. When you're ready, open Notes and select Upgrade.
The sketching feature in Notes is available on iPhone 5 and later, iPad Pro, iPad (4th generation), all iPad Air models, iPad mini 2 and later, and iPod touch (6th generation). If you have an iPad Pro, you can use Apple Pencil with the Notes app.

Learn more
Here are a few things to keep in mind about upgraded notes:
If you copy and pasted HTML formatting into a note before your upgrade, they'll look different after your upgrade and won't have the same HTML format.
If you're signed in to more than one iCloud Mail account on your iOS device or Mac and have notes syncing turned on, you can only use the new Notes features with your primary Apple ID account. You can see your primary account on your iPhone, iPad, or iPod touch in Settings > [your name]. If you're using iOS 10.2 or earlier, go to Settings > iCloud. On your Mac, go to System Preferences > iCloud.
Upgraded notes don't support IMAP and won't connect to Microsoft Outlook. Go to iCloud.com on your Windows PC to view and edit your iCloud notes.